Lake Forest College Sports Information
January 19th, 2002
Contact: Mike Wajerski, SID
Slump Continues in Loss at Lawrence
McDonald scores game-high 24 points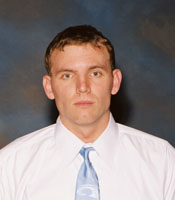 Eric McDonald led all scorers with 24 points on Saturday.

APPLETON, WI - The losing streak for the Lake Forest College men's basketball team hit four games Saturday (January 19th) afternoon at Lawrence University. The 73-63 defeat dropped the Foresters' overall record to 7-8 and evened their Midwest Conference mark at 4-4.

Freshman forward Eric McDonald (Elk Grove, IL/Elk Grove) shot 8-of-15 from the field and 7-of-8 from the free throw line to lead all scorers with 24 points. It was the second 24-point game of the season for McDonald, who also has a 50-point game to his credit, giving him the three highest single-game scoring outputs for the Foresters this year. He leads the team with an average of 14.8 points per game.

Junior guard Brian Bruha (Hillsboro, WI/Hillsboro) scored 11 points and pulled down a team-high seven rebounds. It marked the fourth straight game that Bruha has scored in double figures and the sixth in the last eight contests. Bruha shot 3-of-6 from behind the three-point arc and has made 12 of his last 20 attempts from that distance in the last three games.

Both teams connected on 22 field goal attempts, with Lawrence making one more than the Foresters from three-point range. Lake Forest's downfalls proved to be committing 10 more fouls, attempting 14 less free throws, and pulling down 14 less rebounds than the Vikings.

For the second straight day the Foresters gave up seven points before scoring any of their own. The deficit reached 10 points (17-7) early in the first half before a 13-5 run by the visitors cut it to two. Seven consecutive points by Lawrence to end the period, however, gave the home team a 39-28 halftime lead.

The margin grew to 16 points (57-41) with less than 11 minutes to play before Lake Forest closed the gap to just four with a 12-0 run. A 10-1 run by Lawrence followed by seven straight Forester points made the score 67-61 in favor of the Vikings with just over a minute left in the game. The visitors would get no closer, though, as Lawrence made six of eight free throws down the stretch to claim the 10-point win.

Lake Forest will be at home next weekend when they host Carroll College on Friday (January 25th) night and St. Norbert College on Saturday (January 26th) afternoon. Carroll is winless (0-8) in the MWC so far this season while St. Norbert is undefeated (8-0) in league play.
---