Lake Forest College Sports Information
January 20, 2004
Contact: Mike Wajerski, SID
Comeback Bid Falls Short at Illinois College
Spencer scores career-high 14 points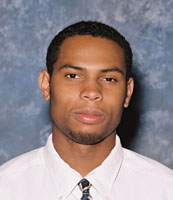 Quinton Spencer scored 14 points on 6-of-7 shooting.

JACKSONVILLE, IL - The Lake Forest College men's basketball team suffered a 67-62 defeat at Illinois College Tuesday (January 20) night. The loss dropped the Foresters' overall record on the year to 6-7 and their Midwest Conference mark to 3-3. Illinois College is also 6-7 overall and 4-3 in the league.

With plenty of friends and family in attendance to see him play in his hometown, sophomore forward Franklyn Beckford (Jacksonville, IL/Jacksonville) led Lake Forest with 17 points and pulled down five rebounds. Freshman Quinton Spencer (Evergreen Park, IL/Brother Rice) scored a career-high 14 points, matched Beckford's five rebounds, and added three blocked shots and a steal. Spencer shot 6-for-7 from the floor and made both of his three-point field goal attempts. Fellow freshman Brad Wehner (Sheboygan, WI/Sheboygan North) chipped in 11 points.

The Foresters shot 43.1% from the floor while the Blueboys connected on 52.3% of their field goal attempts. Both teams struggled from beyond the arc, making less than 30% of their three-point attempts. Each squad pulled down 31 rebounds and committed six turnovers.

Illinois College broke a 6-6 tie with a three-pointer and led the rest of the contest. The Blueboys used a 13-4 run in the first half to jump out to a 24-14 lead. Lake Forest trimmed the margin to eight three times before the end of the period but trailed 35-22 at intermission.

The home team's lead reached as many as 18 points (44-26) early in the second half but an 11-2 run by the Foresters pulled them to within nine (46-35). Illinois College took its advantage back up to 14 points and led by that many (56-42) with 6:30 to play. Lake Forest outscored the Blueboys 12-1 over the next three minutes and trailed by just three (57-54) with 3:34 remaining. Both teams found scoring difficult down the stretch and a Spencer jumper with 37 seconds left cut the difference to five points (63-58). However, Illinois College made seven of eight free throws in the last 30 seconds to preserve the victory.

Lake Forest will be back on the road this weekend (January 23-24) for a pair of conference games. The Foresters will play at Beloit College (2-11, 1-5 MWC) at 5:30 p.m. Friday evening and at Ripon College (7-7, 1-6) Saturday afternoon at 2:00.
---