Lake Forest College Sports Information
January 21, 2006
Contact: Mike Wajerski, SID
Foresters Fall at Grinnell in Back-and-Forth Game
Eight Foresters score at least six points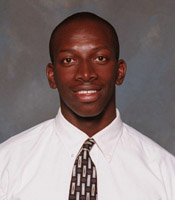 Franklyn Beckford recorded his 17th career double-double.

GRINNELL, IA - The Lake Forest College men's basketball team dropped a 94-86 decision at Grinnell College Saturday (January 21) afternoon. The Foresters fell to 5-10 overall this season and 3-5 in Midwest Conference play. The Pioneers raised their record to 10-3 overall and 6-1 in the league.

Senior forward Franklyn Beckford (Jacksonville, IL/Jacksonville) led the visitors with 18 points and 10 rebounds. He shot 7-for-9 from the field, as did fellow senior forward Brad Rathe (Deer Park, IL/Lake Zurich), who finished the game with 15 points and five boards. Junior guard Brad Wehner (Sheboygan, WI/Sheboygan North) also reached double figures with 12 points and added three assists. Senior guard Adesina Benton (Richton Park, IL/Argo) led the squad with five assists and pulled down a career-high seven rebounds.

The Foresters shot 57.4% from the field in the game, 4-for-11 from three-point range, and 12-for-19 from the free throw line. Grinnell posted a .436 field goal percentage, made 13 three-pointers in 38 attempts, and shot 13-for-20 from the line. Lake Forest out-rebounded the home team 45-35 but committed 28 turnovers, compared to 20 Pioneer miscues.

Grinnell jumped out to a 13-6 lead before a 19-7 run by the Foresters gave them a 25-20 lead midway through the opening period. Neither team opened up more than a four-point lead until a pair of Pioneer free throws gave the home team a 43-38 advantage at intermission.

A 13-1 Lake Forest run early in the second half turned a four-point deficit into a 62-54 advantage with 11:25 remaining in the contest. The difference was seven points with 8:43 to play before a 13-2 Grinnell run put the home team ahead for good. A dunk by Beckford trimmed the margin to two points with two-and-a-half minutes left but the visitors were held scoreless the rest of the way.

Lake Forest will play a pair of conference home games next weekend (January 27-28). The Foresters will take on Beloit College at 7:30 Friday night and Ripon College at 4:00 the following afternoon.
---