Lake Forest College Sports Information
January 24, 2009
Contact: Mike Wajerski, SID
Foresters Hold On for 72-67 Victory at Beloit College
Lake Forest completes season sweep of Buccaneers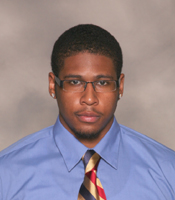 Travis Clark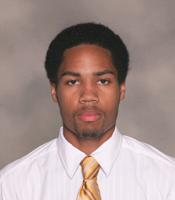 Victor Campbell

BELOIT, Wis. - The Lake Forest College men's basketball team won 72-67 at Beloit College Saturday afternoon (January 24). The Foresters are now 4-11 overall this season and 3-5 in Midwest Conference play. The Buccaneers fell to 3-13 overall and 1-8 in the league.

Freshman post player Travis Clark (Evanston, Ill./Evanston) led Lake Forest with 21 points and six rebounds and added a pair of steals. He shot 9-for-14 from the field and made all three of his free throws in the contest. Junior forward Victor Campbell (Milwaukee, Wis./Wisconsin Lutheran) and freshman forward Nate Bateman (Lake Forest, Ill./Lake Forest Academy) were next on the team with 13 points apiece. They each knocked down a pair of three-pointers and combined to shoot 8-for-16 from the field. Junior forward Patrick Hanley (Plainfield, Ill./Plainfield) led the team with seven assists, just as he did the night before in a loss at Ripon College.

Lake Forest shot 51.1 percent from the field, 7-for-17 from three-point range, and 17-for-27 from the free throw line. The Buccaneers made 57.8 percent of their field goal attempts, including seven of 12 from beyond the arc, and connected on all eight of their foul shots. The Foresters were out-rebounded 25-23 but committed just 11 turnovers while forcing Beloit into 18 miscues.

Neither team led by more than five points in the opening half until Lake Forest outscored the home team 14-2 during the final six minutes of the period to take a 37-28 advantage into the locker room at halftime.

The Forester lead reached a game-high 10 points early in the second half but a 17-7 Buccaneer run tied the score at 47 with 12:25 to play in the game. Clark scored the game's next three baskets, however, and the visitors extended their lead to nine points (64-55) with 2:23 left. Beloit chipped away at the deficit and twice trimmed the margin to two in the final minute. Lake Forest freshman guard Chris Roets (Hartland, Wis./Arrowhead) made three of four free throws in the final 30 seconds of the game and freshman post player Dayton Young (Muskego, Wis./Catholic Memorial) knocked down a pair of foul shots with three seconds to play to clinch the victory.

Next week Lake Forest will host Illinois College at 7:30 Tuesday night (January 27) and will play at Grinnell College Saturday (January 31) at 3:00 p.m. Watch live video webcasts of all league games at www.midwestconference.tv.
---