Lake Forest College Sports Information
January 26th, 2002
Contact: Mike Wajerski, SID
St. Norbert Comes Back to Defeat Foresters
McDonald scores game-high 25 in loss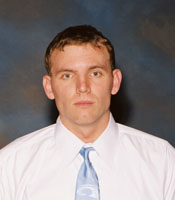 Eric McDonald scored 25 points and pulled down 9 rebounds on Saturday.

LAKE FOREST, IL - The Lake Forest College men's basketball team was unable to give St. Norbert its first Midwest Conference loss of the season Saturday (January 26th) as they fell to the Green Knights by a score of 83-74. The loss drops the Foresters' overall record to 8-9 and their MWC mark to an even 5-5.

Freshman forward Eric McDonald (Elk Grove, IL/Elk Grove) scored a game-high 25 points in the loss. McDonald shot 10-for-15 from the floor and 4-for-5 from the free throw line and added nine rebounds before fouling out in the last minute. McDonald is the only Forester to score as many as 24 points in a game this season and has now done so four times.

Also scoring in double figures for Lake Forest was junior guard Fred Bell (Mequon, WI/Homestead), who shot 6-for-10 from the field, including 3-for-6 from three-point range. In addition to his 15 points, Bell added a game-high six assists. Bell ranks fourth in the MWC in three-point shooting accuracy (.484).

Lake Forest, who leads the league in team three-point field goal percentage (.403), made 12 of 30 shots (.400) from behind the arc and 48.3% of their field goal attempts overall. St. Norbert shot 51.9% and outscored the Foresters 20-6 from the free throw line. The home team held a 37-25 edge in rebounds, but committed 21 turnovers to the Green Knights' 10.

St. Norbert's 2-0 lead was its largest of the first half. Lake Forest led by between one and five points for the vast majority of the period, but did extend that lead to as many as nine points on two occasions. McDonald grabbed a rebound off a blocked shot and put it in just before the buzzer sounded to give the Foresters a 44-41 halftime lead.

The home team came out strong in the second period, scoring seven straight points in the first minute-and-a-half after intermission to take a 10-point lead (51-41), their largest of the game. A 7-1 Green Knight run cut the margin to four, and the lead wavered between one and seven points until a pair of St. Norbert free throws with 3:11 remaining gave the visitors a 73-72 lead, their first in more than 21 minutes of play. The free throws were part of a 16-2 St. Norbert run to finish the game.

Lake Forest will travel to Monmouth College on Tuesday (January 29th) and to Ripon College on Friday (February 1st) before playing at home again next Saturday (February 2nd) against Beloit. Monmouth, Ripon, Beloit and the Foresters are separated by a single game in the MWC standings.
---