Lake Forest College Sports Information
January 29th, 2002
Contact: Mike Wajerski, SID
Lake Forest Earns Important Road Victory Over Monmouth
Bruha and McDonald each record at least 20 points and 10 rebounds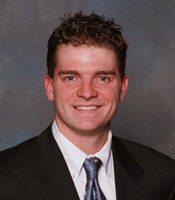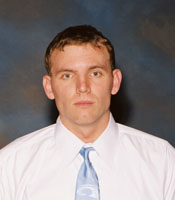 Brian Bruha (above) and Eric McDonald each record at least 20 points and 10 rebounds at Monmouth on Tuesday.

MONMOUTH, IL - With both teams sporting a 5-5 Midwest Conference record, the stakes were high Tuesday (January 29th) at Monmouth College when the Forester men's basketball team came to town. Lake Forest pulled off the victory, 85-74, to stay in position for a third straight trip to the four-team Midwest Conference Tournament.

For the second straight game, the Foresters were led in scoring by freshman forward Eric McDonald (Elk Grove, IL/Elk Grove), who scored 21 points and added 10 rebounds. McDonald shot 7-for-14 from the field and 7-for-11 from the free throw line. Joining him with at least 20 points and 10 rebounds was senior guard Brian Bruha (Hillsboro, WI/Hillsboro), who scored 20 and pulled down 11, respectively. Bruha shot 4-for-5 from behind the three-point arc and 8-for-12 overall. He has now made exactly one-half of his long-range attempts (27-54) in MWC games this season, ranking him third in the league in three-point shooting accuracy.

While McDonald and Bruha each reached double figures in rebounds, they did not lead the team in that category. Junior guard Lee Taylor (Sheldon, IA/Sheldon) scored eight points and pulled down a game-high 12 rebounds. Taylor, McDonald and Bruha combined for 33 of Lake Forest's 44 rebounds, one more than the entire Monmouth team (32).

Junior guard Fred Bell (Mequon, WI/Homestead) dished out a season- and game-high seven assists and made all four of his free throw attempts in the game's final minute.

The Foresters, who entered the game with the conference's highest three-point shooting percentage (40.3%), shot 11-for-18 from beyond the arc in the game (61.1%) and 52.8% overall. Monmouth made 15 of its 34 three-pointers but just 9 of 31 attempts from within the arc.

Monmouth made a pair of three-pointers in the game's first 30 seconds before the Foresters responded with a 12-3 run. With the game tied at 14, Lake Forest scored nine straight points to take the lead for good. The margin grew to as many as 16 in the first half, which ended with the visitors ahead, 45-31.

The Foresters led by as many as 16 again in the second half and by no fewer than six. Bell's free throws in the final minute helped seal the victory.

Lake Forest (9-9, 6-5 MWC) will travel to Ripon College (12-5, 6-4) on Friday (February 1st) before hosting Beloit College (11-7, 6-5) on Saturday. The Foresters will be looking to avenge early season losses to both teams.
---