Lake Forest College Sports Information
January 29, 2008
Contact: Mike Wajerski, SID
Lake Forest Posts Convincing Victory over Illinois College
Hoyt Rees records fourth double-double of the season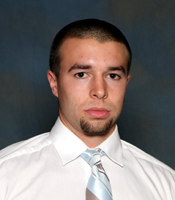 Hoyt Rees

LAKE FOREST, Ill. - The Forester men's basketball team defeated Illinois College 64-47 at home Tuesday night (January 29). Lake Forest is now 9-7 overall on the season and 5-4 in Midwest Conference play. The Blueboys fell to 7-9 overall and 3-6 in the league.

Sophomore forward Hoyt Rees (Yorkville, Ill./Yorkville), who entered the game as the conference's top rebounder, led the home team with 17 points and 15 boards. He shot 7-for-13 from the field and also added four assists and a pair of steals. Senior forward Laird Walker (Chicago, Ill./Whitney M. Young Magnet) scored a dozen points, sophomore guard Victor Campbell (Milwaukee, Wis./Wisconsin Lutheran) finished with 11 to go with eight rebounds, and freshman guard Pat Ebbing (Bloomfield Hills, Mich./Brother Rice) had 10 points for the third game in a row.

The Foresters shot 44.6 percent from the field, 7-for-22 from three-point range, and 7-for-11 from the free throw line. The Blueboys made just 32.1 percent of their field goal attempts, six of 18 shots from beyond the arc, and five of 11 free throws. Lake Forest out-rebounded the visitors 41-31 and committed 16 of the game's 27 turnovers.

Illinois College led by as many as five points early in the contest but a 12-1 Forester run gave the home team a 21-14 lead with seven minutes left in the opening period. A three-pointer by Campbell at the first-half buzzer extended the Foresters' lead to 34-26 at halftime.

A basket with 17:23 remaining in the game was the Blueboys' only score during the first 10-and-a-half minutes of the second half. The Foresters' 17 points during that span, including 12 in a row, gave them a 51-28 lead. The difference did not fall below 20 points until the final minute of the game.

Lake Forest's next game will be at home against Knox College Saturday (February 2) at 4:00 p.m.
---