Lake Forest College Sports Information
January 30, 2003
Contact: Mike Wajerski, SID
Lee Taylor Named Forester Athlete of the Week
Senior captain averaged 9 assists and 8.5 rebounds in two games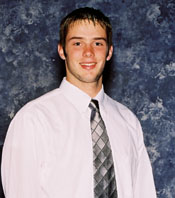 Lee Taylor helped the Foresters notch two
big MWC wins.

LAKE FOREST, IL - Lake Forest College basketball player Lee Taylor (Sheldon, IA/Sheldon) was named Forester Athlete of the Week for his outstanding performance in two Midwest Conference wins last weekend (January 24-25). The 6-1 guard's versatility was on display as he led the team in rebounding and assists in both games.

Taylor's first assist of the weekend came just 14 seconds into Friday's 75-56 win over Beloit College and it was a sign of things to come. He tallied nine assists to go with seven rebounds, five points, two blocks and two steals. Just as important, he put the clamps on Beloit's leading scorer, holding him to 8-of-22 shooting for the game.

On Saturday Taylor missed recording a triple-double by just one assist. He again dished out nine assists, scored 10 points and pulled down 10 rebounds in a 62-53 win over Ripon College.

Taylor has been putting up impressive numbers all season. He currently leads the team in assists (4.4/game) and is second in scoring (10.7/game) and rebounding (5.7/game).

The Forester Athlete of the Week is chosen by the Athletic Department on Thursdays.
---