Lake Forest College Sports Information
January 31, 2006
Contact: Mike Wajerski, SID
Foresters Fall at Knox in Heartbreaking Fashion
Prairie Fire score winning points with five second left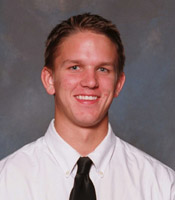 Brad Rathe ranks among the league leaders in three-point field goal percentage.

GALESBURG, IL - The Lake Forest College men's basketball team dropped a 62-60 decision at Knox College Tuesday (January 31) night. The Foresters fell to 5-13 overall this season and 3-8 in Midwest Conference play. The Prairie Fire raised their overall record to 10-7 and league mark to 7-4.

Senior guard Greg Klos (Carol Stream, IL/Glenbard North) led the visitors with 16 points. Fellow senior guard Adesina Benton (Richton Park, IL/Argo) added nine points and led the team with eight rebounds and four assists. Senior forwards Brad Rathe (Deer Park, IL/Lake Zurich) and Franklyn Beckford (Jacksonville, IL/Jacksonville) chipped in with nine and eight points, respectively. Rathe shot 3-for-3 from beyond the arc and Beckford pulled down six rebounds and added a career-high four steals.

The Foresters shot 43.8% from the floor and 50% (11-for-22) from three-point range. The team was also 7-for-9 from the free throw line. Knox was 51.1% from the field, 57.1% (8-for-14) from beyond the arc, and 66.7% (8-for-12) from the foul line. The Prairie Fire held a 30-23 edge in rebounds but committed four more turnovers (19-15) than Lake Forest.

Knox led by as many as eight points (17-9) in the first half but a 13-0 Forester run turned that deficit into a five-point lead. The Foresters later extended the margin to six points and led 31-27 at halftime.

After each team scored on its first possession of the second half, Knox rattled off seven straight points to regain the advantage and led 41-37 before an 11-1 Lake Forest run gave the visitors a six-point cushion with eight-and-a-half minutes left. Trailing by four with 4:50 to play, Knox went on a 10-0 run to take a 60-54 lead with a minute-and-a-half to play. Three-pointers by Klos and Rathe, however, tied the score with 30 ticks left on the clock. Knox then scored the winning basket with 4.8 seconds remaining.

The Foresters will play a pair of MWC road games this weekend (February 3-4). The team will take on Carroll College at 7:30 Friday night and St. Norbert College Saturday at 4:00 p.m.
---