Lake Forest College Sports Information
January 4, 2004
Contact: Mike Wajerski, SID
Lake Forest Rings in New Year with Win Over Chicago
Spencer sets season-high in points and rebounds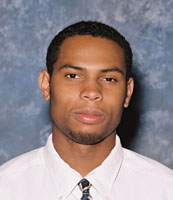 Quinton Spencer had a career-
high 10 points and 8 boards.

LAKE FOREST, IL - The Lake Forest College men's basketball team began the 2004 portion of its schedule with a 63-49 victory at home over the University of Chicago on Sunday (January 4). The Foresters are now within a game of .500 this season at 4-5 while Chicago fell to 4-7.

Sophomore forward Franklyn Beckford (Jacksonville, IL/Jacksonville) scored a team-high 14 points and added seven rebounds in the contest. He shot 7-of-11 from the floor in the game and has connected on 64.4% of his field goal attempts this season. In addition to field goal percentage, Beckford also leads the squad with 16.1 points and 8.6 rebounds per contest.

A pair of Forester guards - sophomore Greg Klos (Carol Stream, IL/Glenbard North) and freshman Quinton Spencer (Evergreen Park, IL/Brother Rice) - also reached double figures in scoring with 13 and 10 points, respectively. Klos shot 3-of-5 from three-point range and made all four of his free throws in the game. Spencer was 4-of-5 from the field and led all players with eight rebounds. Both his point and rebound totals were career-highs.

Lake Forest shot a blistering 63% from the field in the first half and 55.8% in the contest. Chicago shot just 27.6% in the opening period and raised that mark to 32.8% by game's end. The visiting team was just 6-of-25 from three-point range while the Foresters made half of their 14 attempts from beyond the arc. The home team also out-rebounded the Maroons 35-28 but committed twice as many (12-6) turnovers.

Lake Forest led 9-7 before rattling off 20 unanswered points in just over six minutes of first-half play. The run came during a span when the Foresters scored a field goal on 14 consecutive possessions. The Maroons cut the margin to 19 points (39-20) by halftime.

The home team's lead fluctuated between 13 and 16 points for the vast majority of the second half until the visitors scored six straight point to pull to within nine points (58-49) with 2:35 remaining. Lake Forest answered with a three-pointer by freshman guard Brad Wehner (Sheboygan, WI/Sheboygan North), who scored nine points in the contest on 4-of-4 shooting from the floor. A pair of free throws by Spencer with 1:19 to play accounted for the game's final points.

The Foresters will be at home again on Thursday (January 8) night at 7:00 against Monmouth College as the team resumes Midwest Conference play. Lake Forest is 1-1 in the MWC while Monmouth's 4-3 overall record includes an 0-1 mark in the league.
---