Lake Forest College Sports Information
January 4, 2008
Contact: Mike Wajerski, SID
Foresters Start 2008 with Convincing Victory at Illinois Tech
Team allows fewest points in a game in nearly 12 years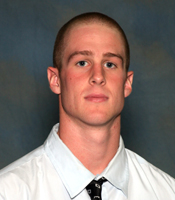 Pat Ebbing

CHICAGO, Ill. - The Lake Forest College men's basketball team won 68-36 at Illinois Institute of Technology Friday night (January 4). The Foresters raised their record on the year to 5-4 while the Scarlet Hawks fell to 5-12.

Forester freshman forward Pat Ebbing (Bloomfield Hills, Mich./Brother Rice) led all players in the contest with a career-high 19 points. He shot 7-for-9 from the field and missed just once in five attempts from three-point range. Sophomore forward Hoyt Rees (Yorkville, Ill./Yorkville) and senior forward Laird Walker (Chicago, Ill./Whitney M. Young Magnet) also reached double figures with 14 and 11 points, respectively. They combined to shoot 12-for-17 from the field, pull down 11 rebounds, and record four steals in a combined 41 minutes on the court. Freshman guard Jeff Lewis (Flossmoor, Ill./Homewood-Flossmoor) also recorded a career-high with nine points and junior guard Jeremy Beyersdorf's (Neenah, Wis./Fox Valley Lutheran) four steals matched the highest single-game total in his two-and-a-half seasons as a Forester.

Lake Forest shot a season-high 53.7 percent from the field while holding Illinois Tech to just 25.6 percent, a season-low for Forester opponents. The visitors made five of 11 shots from three-point range and five of eight from the foul line. The Hawks shot 3-for-9 from beyond the arc and 11-for-17 from the free throw line. The Foresters out-rebounded the home team 30-27 and committed 13 turnovers while forcing 21.

The game was tied 8-8 after five minutes of play before 12 straight Lake Forest points began a 30-5 run by the visitors that lasted until halftime.

An 11-2 Forester run to begin the second period extended the visitors' lead to 34 points (49-15) and the difference reached as many as 39 (60-21) with nine minutes to play.

The 36 points allowed by the Foresters are the fewest surrendered by the team since a 51-33 victory over visiting St. Norbert College on January 23, 1996 and the lowest total on the road since a season-opening 51-35 triumph at the University of Chicago on December 1, 1950.

Lake Forest will resume Midwest Conference play on Tuesday (January 8) at Monmouth College. Tip-off is scheduled for 7:30 p.m.
---