Lake Forest College Sports Information
January 6, 2007
Contact: Mike Wajerski, SID
Defense and Late-Game Heroics Help Foresters Defeat Grinnell
Wehner knocks down winning three-pointer with 14.5 seconds remaining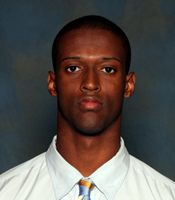 Laird Walker

LAKE FOREST, Ill. - In its first game of 2007, the Lake Forest College men's basketball team came back to defeat Grinnell College 80-79 at home Saturday (January 6) afternoon. The Foresters are now 6-4 overall this season and 2-1 in Midwest Conference play. The Pioneers fell to 4-6 overall and 1-3 in the league after matching their lowest point total since the 1999-2000 season.

Junior forward Laird Walker (Chicago, Ill./Whitney M. Young Magnet) led the home team with a career-high 22 points and a game-high 12 rebounds. He shot 9-for-12 from the field and added a pair of assists. Freshman forward Hoyt Rees (Yorkville, Ill./Yorkville) was next on the team with 17 points, also a career-high. Rees shot 7-for-10 from the floor, matched a career-high with nine rebounds, and recorded two steals. Sophomore guard Jeremy Beyersdorf (Neenah, Wis./Fox Valley Lutheran) had 13 points and sophomore forward Patrick Hanley (Plainfield, Ill./Plainfield) also reached double figures with 10. Hanley also chipped in with eight rebounds and three assists. Senior forward Brad Wehner (Sheboygan, Wis./Sheboygan North) led the team with five assists and scored eight points, including the winning three-pointer with 14.5 seconds left in the contest.

Lake Forest shot 65.3 percent from the floor while the Pioneers made 47 percent of their field goal attempts. The Foresters were also 2-for-5 from three-point range and 14-for-23 from the free throw line. Grinnell made 11 of 28 three-pointers and shot 6-for-9 from the foul line. The home team held a commanding 36-21 edge in rebounds and committed 23 turnovers while forcing 14 Pioneer miscues.

Grinnell led by as many as seven points in a first period that included eight ties and six lead changes. A Pioneer three-pointer just before the buzzer gave the visitors a 40-37 lead at halftime.

The Foresters tied the game at 45 and, after falling behind by as many as eight points, drew even again at 76 with 2:40 remaining. Trailing by two, Lake Forest got the ball back with slightly more than 40 seconds to play. With the shot clock under 10 seconds, Wehner knocked down a three-pointer from a few feet beyond the arc with 14.5 seconds left in the game to give the Foresters their first lead of the second half. The Foresters, especially freshman guard Victor Campbell (Milwaukee, Wis./Wisconsin Lutheran), forced the nation's leading scorer into an awkward miss in the final seconds to preserve the victory.

Lake Forest will play three league games next week, beginning at Illinois College Tuesday (January 9) night at 7:00 at Illinois College. The Foresters will host league-leading Ripon College Friday (January 12) evening and St. Norbert College the next afternoon.
---