Lake Forest College Sports Information
January 7, 2006
Contact: Mike Wajerski, SID
Foresters Knock off Monmouth in Overtime
Beckford and Wehner score 20 points apiece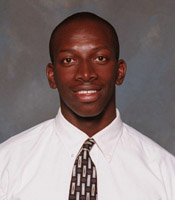 Beckford recorded his second double-double of the year.

LAKE FOREST, IL - The Lake Forest College men's basketball team raised it Midwest Conference record to 2-1 with an 84-77 overtime victory at home over Monmouth College on Saturday (January 7). The Foresters are now 4-6 overall. Monmouth fell to 4-4 overall and 0-3 in league play.

Senior forward Franklyn Beckford (Jacksonville, IL/Jacksonville) and junior guard Brad Wehner (Sheboygan, WI/Sheboygan North) shared game-high honors with 20 points apiece. Beckford, who shot 8-for-9 from the field in the contest, also led all players with 10 rebounds and added three assists. Wehner was 6-for-10 from the floor, 3-for-4 from three-point range, and a perfect 5-for-5 from the foul line. Senior guard Greg Klos (Carol Stream, IL/Glenbard North) also reached double figures with 15 points. He knocked down three shots from beyond the arc and added three assists. Senior guard Adesina Benton (Richton Park, IL/Argo) scored seven points and led the squad with four assists.

The Foresters shot 51.8% from the floor in the game and made half of their 16 three-point field goal attempts. The home team also shot 18-for-23 from the free throw line. The Fighting Scots posted a .492 field goal percentage, shot 11-for-26 (42.3%) from beyond the arc, and made six of their nine free throws. Lake Forest out-rebounded their guests 36-28 but committed one more turnover (14-13).

Monmouth jumped out to a 10-2 lead and extended the margin to as many as 11 points twice in the first half. Lake Forest pulled to within seven points (37-30) at halftime.

The difference alternated between five and seven points for the first six minutes of the second half. The Foresters trimmed the margin to three points (48-45) with 13:40 left on the clock and to a single point (51-50) 25 seconds later. After falling behind by four, the home team rattled off eight straight points to take a 58-54 lead. The Scots drew even at 61 with 6:18 remaining, but Lake Forest regained the lead on its next possession and extended it to six points (72-66) with 1:45 left. The visitors battled back again and forced overtime with a three-pointer with three seconds to play.

Lake Forest scored the first five points of the extra period and, after Monmouth scored three, also scored the last five to close out the game.

The Foresters will host fellow MWC foe Knox College Tuesday (January 10) night at 7:00 and will play at Ripon College Friday (January 13) night and at Lawrence University the following afternoon.
---