Lake Forest College Sports Information
January 8, 2003
Contact: Mike Wajerski, SID
Illinois College Hands Lake Forest Second MWC Loss
Foresters drop fifth straight game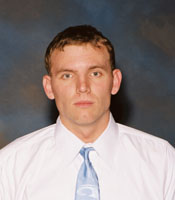 Eric McDonald led the Foresters with 11 points.

JACKSONVILLE, IL - The Forester men's basketball team lost its fifth consecutive game Wednesday (January 8), an 88-62 decision at Illinois College. Lake Forest's overall record dropped to 1-8 and its Midwest Conference mark to 0-2. Illinois College is now 4-4 overall and 1-0 in the league.

Sophomore forward Eric McDonald (Elk Grove, IL/Elk Grove) was the only Forester in double figures with 11 points. Seniors Lee Taylor (Sheldon, IA/Sheldon) and Tim Andris (Port Washington, WI/Port Washington) each scored eight. Andris led the team with five rebounds and senior guard Fred Bell (Mequon, WI/Homestead) dished out a team-high five assists.

Lake Forest shot 43.1% from the field but the home team connected on 59.6% of its attempts, including 14-of-20 from three-point range. The teams combined to commit just 16 turnovers. IC held a 35-24 edge in rebounding.

The game was tied at 14 with 13 minutes left in the first half before the home team began to pull away. The Blueboys' lead reached 16 points (44-28) with two minutes remaining before Lake Forest scored the final six points of the period.

Illinois College scored the first 10 points of the second half and led by 23 points (61-38) with 15 minutes to play. A 10-2 Forester run cut the margin to 15 but the visitors would get no closer.

Lake Forest will travel to Monmouth College this Saturday (January 11) for another Midwest Conference match-up. Tip-off is scheduled for 4:00 p.m. The Foresters will play at Carroll College and Lawrence University the following Friday and Saturday (January 17-18).
---