Lake Forest College Sports Information
January 8, 2004
Contact: Mike Wajerski, SID
Victory Over Monmouth is Foresters' Fifth Straight at Home
Defense limits Scots to just 19 second-half points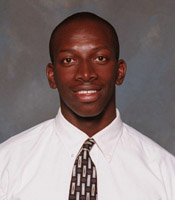 Franklyn Beckford had 22 points and 12 rebounds.

LAKE FOREST, IL - The Forester men's basketball team won its fifth straight home game Thursday (January 8), a 58-54 decision against Monmouth College. The victory raises Lake Forest's overall record to 5-5 and its Midwest Conference mark to 2-1. Monmouth fell to 4-4 overall and 0-2 in the league.

Sophomore forward Franklyn Beckford (Jacksonville, IL/Jacksonville) led all players with 22 points and 12 rebounds. He shot 9-for-13 from the floor, raising his field goal percentage on the year to .650. Beckford was also 4-for-5 from the line in the game.

Sophomore guard Greg Klos (Carol Stream, IL/Glenbard North) chipped in 17 points for the Foresters and added a team-high four assists and three steals. Twelve of his points came on three-pointers and he was 5-for-6 from the free throw line. Sophomore forward Brad Rathe (Deer Park, IL/Lake Zurich) also reached double figures with 12 points and was 3-for-4 from three-point range.

Monmouth held a slight edge in all three shooting percentages. The Scots out-shot the Foresters 41.2% to 40.4% from the field, 38.5% to 38.1% from beyond the arc, and 77.8% to 63.2% from the free throw line. Lake Forest turned the ball over nine more times (22-13) than Monmouth but outrebounded the visitors 40-24.

A 7-0 Monmouth run early in the game gave the Scots a 20-12 advantage, the largest lead of the entire game for either team. The Foresters rattled off seven straight points of their own and, after giving up a pair of layups, scored six more in a row to take a 25-24 lead with 6:27 to play in the half. The period, which included five ties and nine lead changes, ended with the Scots clinging to a 35-34 lead.

The Foresters grabbed a five-point lead (40-35) with a pair of three-pointers in the first two minutes after intermission. Monmouth scored seven straight to regain the lead and the teams traded baskets until a three-pointer by Klos put the home team ahead 49-46 with 8:31 to go. The Scots hit a pair of free throws with 2:57 remaining to take a 52-51 lead but another trey by Klos the next time down the court gave the Foresters the lead for good and the defense, which held the Scots without a field goal during the game's final 4:29, preserved the victory.

After a weekend off, Lake Forest will travel to Knox College (5-3, 0-2 MWC) next Tuesday (January 13) for a 7:30 p.m. tip-off. The Foresters edged out the Prairie Fire 65-63 at home earlier in the season.
---