Lake Forest College Sports Information
January 8, 2008
Contact: Mike Wajerski, SID
Lake Forest Shoots Well but Falls by One at Monmouth
Jeremy Beyersdorf and Victor Campbell score 20 points apiece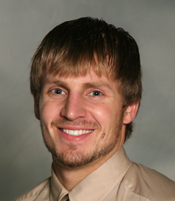 Jeremy Beyersdorf

MONMOUTH, Ill. - The Forester men's basketball team dropped a 68-67 decision at Monmouth College Tuesday night (January 8). Lake Forest is now 5-5 overall on the season and 1-2 in Midwest Conference play. Monmouth raised its record to 1-9 overall and 1-3 in league play.

Lake Forest junior guard Jeremy Beyersdorf (Neenah, Wis./Fox Valley Lutheran) and sophomore guard Victor Campbell (Milwaukee, Wis./Wisconsin Lutheran) shared team-high honors with 20 points apiece. It was the first time this season that a pair of Foresters reached the 20-point mark in the same game. It was a career-high for Beyersdorf, who shot 7-for11 from the field, including a 3-for-4 performance from three-point range. Campbell was 6-for-11 from the floor and 3-for-5 from beyond the arc while also leading the team with three assists. Freshman forward Pat Ebbing (Bloomfield Hills, Mich./Brother Rice) also reached double figures with 12 points. Senior forward Laird Walker (Chicago, Ill./Whitney M. Young Magnet) and sophomore forward Hoyt Rees (Yorkville, Ill./Yorkville) each pulled down 10 rebounds to lead all players in the game.

The Foresters shot 52.9 percent from the field, 9-for-15 from three-point range, and 14-for-22 from the foul line. Monmouth made just 42.2 percent of its field goal attempts, including eight of 26 from beyond the arc, and shot 6-for-10 from the line. Lake Forest out-rebounded the home team 34-29 but committed 20 turnovers while forcing just nine.

Beyersdorf made the game's first basket, giving the visitors what turned out to be their only lead of the contest. Monmouth scored the next seven points and, after a pair of free throws by Walker, used a 10-3 run to extend the margin to double figures. Lake Forest scored 10 straight points late in the first half to pull to within one and trailed by four (40-36) at halftime.

A 14-2 Monmouth run to open the second half game the home team its largest lead of the game (54-38) with just over 15 minutes remaining. The Foresters outscored the Scots 16-4 over the next five-and-a-half minutes to cut the lad to four points (58-54) and pulled to within one (65-64) on a three-pointer by Campbell with 1:11 left on the clock. Monmouth responded with a three-pointer of its own on the next possession and Beyersdorf's three with 14 second left turned out to be the game's final points.

The Foresters will travel to Grinnell College Saturday (January 12) for a 4:00 p.m. tip-off. The team will continue playing Midwest Conference road games the following weekend (January 18-19) at Ripon College (Friday) and St. Norbert College (Saturday).
---