Lake Forest College Sports Information
January 9, 2007
Contact: Mike Wajerski, SID
Lake Forest's Comeback Bid Falls Just Short at Illinois College
Hanley and Wehner lead the Foresters with 14 points apiece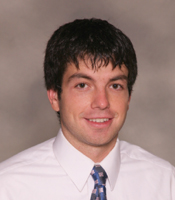 Patrick Hanley

JACKSONVILLE, Ill. - The Forester men's basketball team fell 53-51 at Illinois College Tuesday (January 9) night. Lake Forest is now 6-5 overall this season and 2-2 in Midwest Conference play. The Blueboys raised their overall record to 7-5 and league mark to 2-3.

Senior forward Brad Wehner (Sheboygan, Wis./Sheboygan North) and sophomore forward Patrick Hanley (Plainfield, Ill./Plainfield) each scored 14 points to lead the Foresters. Junior forward Laird Walker (Chicago, Ill./Whitney M. Young Magnet) narrowly missed his second straight double-double with a dozen points and a game-high nine rebounds.

Lake Forest shot a season-low 31 percent from the field and made just four of 24 three-point field goal attempts and 11 of 23 free throws. Illinois College shot 42.3 percent from the floor, 3-for-15 from beyond the arc, and 6-for-11 from the foul line. Both teams finished the game with 41 rebounds and the Foresters committed a season-low nine turnovers while forcing 12.

An 11-0 Blueboy run early in the game erased the only Lake Forest lead of the contest and gave the home team a 13-6 advantage. The Foresters trimmed the margin to five points twice in the next few minutes before falling behind by as many as 14 later in the first half. The visitors closed the period on an 11-2 run but trailed 26-21 at intermission.

Lake Forest closed to within three points twice early in the second half but faced a 12-point (51-39) deficit with three minutes to play. Hanley made two three-pointers during a 10-0 Forester run but a pair of Illinois College free throws gave the home team a 53-49 lead with 24 seconds to play. Wehner closed out the scoring with a basket with 10 seconds left.

Lake Forest will play a pair of Midwest Conference home games this weekend (January 12-13). The Foresters will host Ripon College Friday night at 7:30 and St. Norbert College at 4:00 p.m. on Saturday.
---