Lake Forest College Sports Information
May 22, 2009
Contact: Mike Wajerski, SID
Lee Taylor Named Head Coach at Sioux Falls' Roosevelt High School
Taylor was an assistant at Roosevelt from 2005-07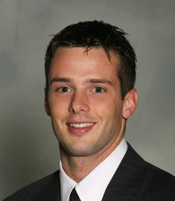 Lee Taylor

LAKE FOREST, Ill. - Forester assistant men's basketball coach Lee Taylor was named the head boys basketball coach at Roosevelt High School in Sioux Falls, South Dakota on Friday (May 22).

Taylor was an assistant at Lake Forest each of the last two years and for a season after graduating from the College in 2003. In between his stints with the Foresters he assisted at Augustana College in Sioux Falls for one season and at Roosevelt High School for two.

Taylor is the Foresters' all-time leader with 337 career assists and averaged 9.6 points and 5.6 rebounds per game during his four years on the team. He was a freshman on the 1999-2000 Midwest Conference championship squad, captained the team as a senior, and helped lead Lake Forest to a 40-24 league record during his career.
---