Lake Forest College Sports Information
November 15, 2008
Contact: Mike Wajerski, SID
Foresters Drop Season Opener at Benedictine University
Travis Clark debuts with 20 points and nine rebounds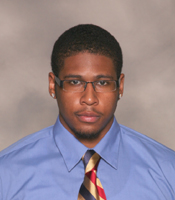 Travis Clark

LISLE, Ill. - The Lake Forest College basketball team began the 2008-09 season with an 88-67 loss at Benedictine University Saturday night (November 15).

Forester freshman post player Travis Clark (Evanston, Ill./Evanston) led all players in the game with 20 points on 10-for-14 shooting from the field. He also tied for game-high honors with nine rebounds. Junior forward Victor Campbell (Milwaukee, Wis./Wisconsin Lutheran) was next on the team with 13 points and senior guard Jeremy Beyersdorf (Neenah, Wis./Fox Valley Lutheran) added 10 points and five assists. Junior forward Patrick Hanley (Plainfield, Ill./Plainfield) dished out a game-high seven assists.

Lake Forest shot 39.1 percent from the floor in the contest, 4-for-21 from three-point range, and 13-for-16 from the free throw line. The Eagles made half of their field goal attemtpts, including seven of 20 from beyond the arc, and knocked down 15 of 22 free throws. The Foresters were out-rebounded 45-36 and committed 16 turnovers while forcing 13.

Benedictine connected on the first shot of the game and led from that point on. The margin reached seven points (10-3) early in the first half and increased to 11 (29-18) with 6:19 to play in the period. A 13-5 Lake Forest run brought the visitors to within three points but the home team scored the final 10 points of the period and led 44-31 at halftime.

The Foresters got to within six points early in the second half before a 17-4 Benedictine run put the game out of reach. The Eagle lead did not drop below 12 points the rest of the way.

Lake Forest will play its home opener against Lakeland College next Saturday night (November 22) at 7:00. A free live video webcast of the game will be available at www.midwestconference.tv.
---