Lake Forest College Sports Information
November 17th, 2001
Contact: Mike Wajerski, SID
Foresters Drop Season Opener at Kalamazoo
Bertola scores 10 points in defeat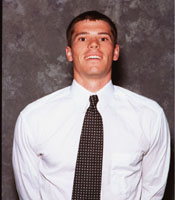 Brian Bertola led the Foresters with 10 points on Saturday.

KALAMAZOO, MI - For the third consecutive year, the Lake Forest College men's basketball team opened its season against Kalamazoo College and the home team has won all three of those games. Unfortunately for the Foresters, this year's game was at Kalamazoo and the Hornets picked up the 68-49 victory.

Senior guard Bryan Bertola (Green Bay, WI/Bay Port), the most accurate three-point shooter in the nation (NCAA Division III) last season, connected on two of four attempts from long range and led Lake Forest with 10 points.

The Foresters led by 11 points (20-9) after 12 minutes of play, but an 18-5 run by Kalamazoo gave the Hornets a one-point lead. A traditional three-point play by Lake Forest junior guard Lee Taylor (Sheldon, IA/Sheldon) ended the first half's scoring with the visitors ahead, 28-27.

A three-pointer by Bertola with 12:20 to play gave the Foresters a four-point lead (37-33) but the Hornets outscored the visitors 35-12 the rest of the way.

Lake Forest will play its first home game of the 2001-02 season on Monday (November 19th) at 7:30 against UW-River Falls. River Falls was the preseason pick to win the Wisconsin Intercollegiate Athletic Conference.
---