Lake Forest College Sports Information
November 18, 2006
Contact: Mike Wajerski, SID
Foresters Open Season with 65-58 Victory at Lakeland College
Freshman Hoyt Rees leads the team with 13 points and nine boards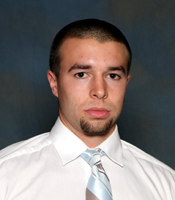 Hoyt Rees

Lake Forest, Ill. - The Lake Forest College men's basketball team won 65-58 at Lakeland College Saturday (November 18) night to open the 2006-07 season. It was also Lakeland's first game of the year.

Freshman forward Hoyt Rees (Yorkville, Ill./Yorkville) led the Foresters with 13 points and a game-high nine rebounds. He shot 6-for-10 from the field and added two assists and three steals. Senior guard Brad Wehner (Sheboygan, Wis./Sheboygan North), junior forward Laird Walker (Chicago, Ill./Whitney M. Young Magnet), and sophomore forward Patrick Hanley (Plainfield, Ill./Plainfield) each scored a dozen points. Hanley added eight rebounds and Walker chipped in with seven while Wehner led the squad with five assists.

Lake Forest shot 52 percent from the field in the game. The visitors made four of 14 three-point field goal attempts and shot 52.9 percent (9-for-17) from the free throw line. The Muskies shot just 38.8 percent from the floor, 5-for-20 from beyond the arc, and 71.4 percent (15-for-21) from the foul line. The Foresters out-rebounded Lakeland 35-29 but committed 24 of the game's 43 turnovers.

The home team broke a 10-10 tie with nine straight points in the middle of the first half. The Muskie lead was nine (23-14) again with 6:42 to play when Lake Forest rattled off 14 unanswered points to close out the period.

Lakeland cut the Forester lead to one twice in the first 10 minutes of the second half and finally regained the lead with less than five minutes to play. A Hanley three-pointer with two-and-a-half minutes left broke a 53-53 tie and gave the visitors the lead for good. Lake Forest scored the final five points of the game to close out the victory.

The Foresters will play their home opener Tuesday (November 21) night against the University of Chicago. Tip-off is scheduled for 7:00 p.m.
---