Lake Forest College Sports Information
November 19th, 2001
Contact: Mike Wajerski, SID
UW-River Falls Spoils Foresters' Home Opener
Bertola again leads team in points with 15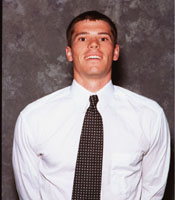 Brian Bertola shot 5-for-11 from 3-point range on Monday.

LAKE FOREST, IL - The Forester men's basketball team hosted UW-River Falls Monday (November 19th) night in their home opener but fell to the Falcons by a score of 72-59.

Leading Lake Forest in scoring for the second straight game was senior guard Bryan Bertola (Green Bay, WI/Bay Port), who connected on 5 of 11 three-point attempts to account for all of his 15 points. Freshman guard/forward Eric McDonald (Elk Grove, IL/Elk Grove) chipped in nine points and junior Lee Taylor (Sheldon, IA/Sheldon) and Tim Andris (Port Washington, WI/Port Washington) each scored seven.

River Falls scored the game's first seven points and led by as many as 20 five times during the first half, which ended with the Foresters trailing 40-22.

The lead grew to as many as 26 points (51-25) early in the second half before Lake Forest started to turn things around. They cut the lead to 11 points (68-57) with just less than two minutes to play but could get no closer.

The Foresters will host the Midwest Classic this weekend (November 24-25th). The tournament features one team from each of four conferences in the region. On Saturday, Eureka College will take on Webster University at 6:00 pm and Lake Forest will host Concordia University (WI) at 8:00 pm. Saturday's consolation game will begin at 1:00 pm and the championship is scheduled for 3:00 pm.
---