Lake Forest College Sports Information
November 19, 2005
Contact: Mike Wajerski, SID
Foresters Fall to Lakeland in Season Opener
Beckford seven away from 1,000 career points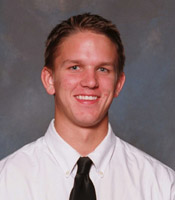 Brad Rathe scored 14
points on Saturday.

LAKE FOREST, IL - The Lake Forest College men's basketball team dropped a 51-48 decision at home to Lakeland College Saturday (November 19) night in the season opener for both teams.

Senior forwards Franklyn Beckford (Jacksonville, IL/Jacksonville) and Brad Rathe (Deer Park, IL/Lake Zurich) led all players in the game with 15 and 14 points, respectively. They combined to shoot 12-for-20 from the field, 1-for-3 from three-point range, and 4-for-6 from the foul line while pulling down 11 rebounds. Beckford is now just seven points away from becoming the 17th player in team history with 1,000 in his career. Senior guard Greg Klos (Carol Stream, IL/Glenbard North) added eight points and led the squad with eight rebounds and three assists.

The Foresters shot 45% from the field but were just 1-for-11 from beyond the arc. The home team out-rebounded the Muskies 31-22 but committed 20 turnovers while forcing just nine.

Lake Forest made the game's first two baskets and led by as many as nine points five times during the first half. A Rathe jumper with 23 seconds left in the period gave the home team a 27-20 halftime lead.

Lakeland scored the first seven points of the second half to tie the game and took its first lead of the contest on a layup with 13:16 remaining. That was the first of 13 lead changes in the half as neither team trailed by more than two points until a free throw with 25 seconds left gave the Muskies a 51-48 lead. Two three-point field goal attempts by the Foresters in the final 10 seconds were off the mark.

Lake Forest will play three times next week. The team will travel to the University of Chicago on Tuesday (November 22) for a 7:00 tip-off and will play at Benedictine University at 3:30 Saturday (November 26) afternoon. The team will also host Carleton College Sunday (November 27) at 3:00 p.m.
---