Lake Forest College Sports Information
November 21, 2006
Contact: Mike Wajerski, SID
Lake Forest Drops Home Opener to University of Chicago
Team will play twice over the weekend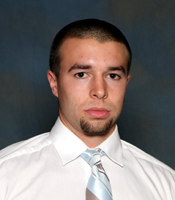 Hoyt Rees

LAKE FOREST, Ill. - The Forester men's basketball team fell 66-39 to the University of Chicago in its first home game of the season Tuesday (November 21) night. Lake Forest is now 1-1 on the year while the Maroons raised their record to 3-0.

Freshman forward Hoyt Rees (Yorkville, Ill./Yorkville) led the Foresters with eight points, senior forward Brad Wehner (Sheboygan, Wis./Sheboygan North) pulled down a team-high six rebounds, sophomore Matt DesJardins (Peoria, Ill./Richwoods) recorded three steals, and junior forward Laird Walker (Chicago, Ill./Whitney M. Young Magnet) had a pair of blocked shots in the contest.

Lake Forest shot just 34.7 percent from the field and made one three-pointer in 17 attempts. Chicago was 45.5 percent from the floor and 10-for-29 from beyond the arc. The Foresters were out-rebounded 35-31 and committed 15 turnovers while forcing 10.

Lake Forest scored the game's first four points and trailed by just four (14-10) before a 24-0 Chicago run over a nearly 12-minute span put the game out of reach early in the contest. The Foresters trailed 40-15 at halftime and by between 19 and 35 points during the final 20 minutes.

Lake Forest will play at Edgewood College Saturday (November 25) afternoon at 3:00 and at home against Illinois Institute of Technology Sunday (November 26) evening at 6:00.
---