Lake Forest College Sports Information
November 21, 2007
Contact: Mike Wajerski, SID
Lake Forest Wins Home Opener against Edgewood in Overtime
Foresters erase seven-point deficit in final 70 seconds of regulation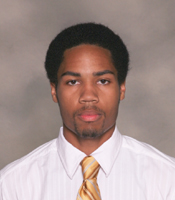 Victor Campbell

LAKE FOREST, Ill. - The Forester men's basketball team defeated visiting Edgewood College 72-70 in overtime Wednesday (November 21) night in the squad's first home game of the season. Both teams are now 1-2 on the year.

Sophomore Victor Campbell (Milwaukee, Wis./Wisconsin Lutheran) led the Foresters with a career-high 18 points. He shot 7-for-11 from the field, including a 3-for-4 performance from three-point range, and added three assists. Sophomore Hoyt Rees (Yorkville, Ill./Yorkville) and freshman Pat Ebbing (Bloomfield Hills, Mich./Brother Rice) also reached double figures with 14 and 11 points, respectively. Rees also chipped in with eight rebounds and four assists. Senior Laird Walker (Chicago, Ill./Whitney M. Young Magnet) scored eight points, pulled down a game-high 12 rebounds, and blocked two shots.

Edgewood out-shot the Foresters 54.2 to 46.4 percent from the field. The Eagles made half of their 16 attempts from beyond the arc while the home team was 12-for-27 (44.4%). Lake Forest shot 8-for-14 from the foul line while the visitors missed 11 of their 21 attempts from the charity stripe. The Foresters were out-rebounded 33-31 but committed just 14 turnovers while forcing 20.

Lake Forest took an early 11-3 lead before nine straight Eagle points gave the visitors the advantage for just one first-half possession. The Foresters regained the edge and led 26-21 at halftime.

A 7-0 run by Edgewood early in the second half tied the score at 34 and the visiting took a two-point lead (40-38) with 12 minutes to play. Campbell knocked down a three-pointer on the next possession to put the Foresters back on top for what turned out to be the last time in regulation. An Eagle three-pointer with 1:43 to play gave the visitors a seemingly comfortable 60-53 lead. However, a pair of free throws by Rees and a three-pointer by Ebbing cut the margin to two with 37 seconds left and Edgewood's third missed free throw in four tries down the stretch left the lead at three (61-58) with 34 seconds to play. Junior Jeremy Beyersdorf (Neenah, Wis./Fox Valley Lutheran) then connected from three-point range with 19 seconds remaining to force overtime.

Lake Forest built up a four-point lead in overtime but the score was tied again in the closing seconds before Rees connected on a jumper in the lane with 1.9 ticks left. Edgewood's desperation three-pointer as the buzzer sounded rimmed out, giving the Foresters a two-point victory.

Lake Forest will travel to Milwaukee School of Engineering Saturday (November 24) for a 4:00 p.m. tip-off before beginning Midwest Conference play at home against Lawrence University and Beloit College the following weekend (November 30-December 1).
---