Lake Forest College Sports Information
November 22, 2003
Contact: Mike Wajerski, SID
Foresters Fall to Carthage in First Game of the Season
Beckford, Klos, and McDonald score in double figures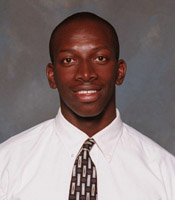 Franklyn Beckford led the team in points and rebounds.

LAKE FOREST, IL - The Lake Forest College men's basketball team dropped a 79-52 decision at home to Carthage College Saturday (November 22) night in the Foresters' season opener. Carthage raised its record to 2-0 on the year.

Sophomore forward Franklyn Beckford (Jacksonville, IL/Jacksonville) led the Foresters with 13 points and six rebounds. He shot 4-for-7 from the field on the evening. Sophomore guard Greg Klos (Carol Stream, IL/Glenbard North) and junior forward Eric McDonald (Elk Grove, IL/Elk Grove) also reached double figures with 11 and 10 points, respectively. Sophomore forward Maurice Smith (Loves Park, IL/Harlem) was 3-for-6 from three-point range and had nine points.

Lake Forest shot 35.2% from the field and 29.2% from beyond the arc. Carthage connected on 58.5% of its field goal attempts, including 38.9% of those from long-range. The Redmen committed 11 turnovers while the Foresters turned the ball over just ten times.

Beckford scored the game's first basket but Carthage quickly built a 15-8 lead. A pair of three-pointers by Smith cut the margin to just one before an 18-5 Carthage run put the Redmen ahead 33-19. Lake Forest cut the lead to eight but gave up the final three points of the first half and trailed 39-28 at the break. Carthage's lead gradually grew throughout the final 20 minutes and reached 27 by game's end.

The Foresters will host Lakeland College Tuesday (November 25) night at 7:00 p.m. in another non-Midwest Conference game. After playing twice in the Midwest Challenge Thanksgiving weekend (November 29-30), the team will begin conference play against Knox College next Wednesday (December 3).
---