Lake Forest College Sports Information
November 22, 2005
Contact: Mike Wajerski, SID
Franklyn Beckford Scores 1,000th Career Point in Loss at Chicago
Senior becomes 17th Forester to reach milestone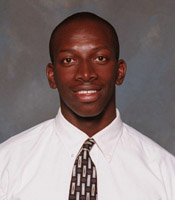 Franklyn Beckford is the 17th player in the program's history to score 1,000 career points.

CHICAGO, IL - The Forester men's basketball team dropped a 75-59 decision at the University of Chicago Tuesday (November 22) night. The team is now 0-2 this season. The Maroons raised their mark on the year to 3-0.

Senior Franklyn Beckford (Jacksonville, IL/Jacksonville) led the visitors with a dozen points and five rebounds. His seventh point of the contest was the 1,000th of his career and he is the 17th player in team history to reach that milestone. Junior Brad Wehner (Sheboygan, WI/Sheboygan North) and seniors Brad Rathe (Deer Park, IL/Lake Zurich) and Dodd Browning (Champaign, IL/Central) each scored 10 points in the contest.

The Foresters shot 40.9% from the floor while the Maroons knocked down 54.9% of their field goal attempts. Lake Forest also shot 4-for-18 (22.2%) from three-point range and 19-for-28 (67.9%) from the foul line. Chicago made six three-pointers in 15 attempts (40%) and 13 of 16 (81.3%) free throws. Lake Forest was out-rebounded 34-23 but committed just 10 turnovers while forcing 15 miscues.

There were five ties and seven lead changes in the first half. The largest lead of the period was the Foresters' 18-12 advantage nine minutes into the game. Chicago led by as many as three points in the half but trailed Lake Forest 27-26 at intermission.

The Maroons opened the second half with a 13-3 run to take and 39-30 lead. The Foresters trimmed the deficit to four points (41-37) but would get no closer. Already holding a nine-point lead (53-44) with 8:08 to play, the home team scored nine consecutive points to put the game out of reach.

Lake Forest will play a pair of games this weekend (November 26-27). The team will travel to Benedictine University for a 3:30 p.m. contest on Saturday and will host Carleton College at 3:00 Sunday afternoon.
---