Lake Forest College Sports Information
November 23, 2002
Contact: Mike Wajerski, SID
Kalamazoo Ruins Lake Forest's Season Opener in Overtime
Five Foresters score in double-figures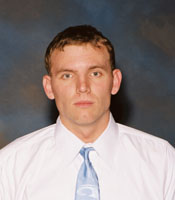 Eric McDonald led Lake Forest with 18 points.

LAKE FOREST, IL - In the first game of the season, the Lake Forest College men's basketball team was knocked off in overtime by visiting Kalamazoo College, 91-88. It marked the Foresters' sixth straight season-opener against the Hornets, but the first in that stretch where the visiting team won.

Lake Forest's leading scorer in the game was sophomore Eric McDonald (Elk Grove, IL/Elk Grove) with 18 points. The forward connected on seven of 11 shots from the floor and shot 4-for-7 from the free throw line. He also added eight rebounds, three assists, and a pair of steals.

Senior guard Lee Taylor (Sheldon, IA/Sheldon) scored 17 points (all after halftime), pulled down six rebounds, and dished out five assists. Fellow seniors Tim Andris (Port Washington, WI/Port Washington) and Fred Bell (Mequon, WI/Homestead) also contributed greatly to the Foresters' cause. Andris matched his career-high with 13 points and Bell had nine points, seven rebounds, and five assists.

Freshmen Franklyn Beckford (Jacksonville, IL/Jacksonville) and Maurice Smith (Loves Park, IL/Harlem) both had extremely successful debuts. Beckford scored 16 points, grabbed a team-high nine rebounds, and blocked a pair of shots. Smith connected on three of four attempts from three-point range and had 13 points.

Kalamazoo held a slight edge in rebounds (42-38) and shot a blistering 87.5% (28-of-32) from the free throw line. Lake Forest attempted 44 free throws and made 31 (70.5%). Both teams committed just 11 turnovers.

The visitors led by as many as eight points (21-13) early in the game before a 14-6 run by the Foresters tied the score. After falling behind again by five, Lake Forest scored nine straight to take a 36-32 lead. Kalamazoo's Dirk Rhinehart, who scored a game-high 22 points, made a three-pointer just before halftime to cut the Forester lead to 40-37.

Lake Forest's advantage ranged between one and seven points until the Hornets scored seen straight to take a 70-68 lead with 6:43 to play. There were four lead changes and five ties in the last four-plus minutes of regulation and the score was knotted 82-82 going into the extra period.

The game was tied again at 88, but Kalamazoo made three of four free throws while Lake Forest was unable to score in the game's final two minutes.

The Foresters will play in the Midwest Challenge next weekend (November 30-December 1). Lake Forest will play host Eureka College in the semifinals at 4:00 p.m. on Saturday and either Webster University or Concordia University (WI) on Sunday.
---