Lake Forest College Sports Information
November 24, 2007
Contact: Mike Wajerski, SID
Foresters Fall at Milwaukee School of Engineering
Rees, Campbell, and Ebbing reach double figures in scoring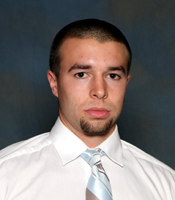 Hoyt Rees

MILWAUKEE, Wis. - The Lake Forest College men's basketball team dropped a 73-62 decision at Milwaukee School of Engineering on Saturday (November 24). The Foresters fell to 1-3 on the season while the Raiders raised their record to 3-1.

Sophomore Hoyt Rees (Yorkville, Ill./Yorkville) led the Foresters with 16 points. He shot 6-for-11 from the field and added four rebounds, three assists, and a pair of steals. Sophomore Victor Campbell (Milwaukee, Wis./Wisconsin Lutheran) and freshman Pat Ebbing (Bloomfield Hills, Mich./Brother Rice) also reached double figures with 11 points apiece. Junior Matt Desjardins (Peoria, Ill./ Richwoods) led the visitors with six rebounds and senior Laird Walker (Chicago, Ill./Whitney M. Young Magnet) had three steals.

The Foresters posted a slightly higher field goal percentage (45.1%) than MSOE (44.4) but was out-rebounded 41-25. Both teams made one-third of their shots from three-point range with Lake Forest making five and the Raiders three. The visitors were also 11-for-20 from the free throw line while the home team was 22-for-36. MSOE committed 14 of the game's 26 turnovers.

Neither team led by more than three points until an 18-0 Forester run gave the visitors a 28-12 advantage with eight-and-a-half minutes to play in the opening period. Lake Forest later led 39-22 but was outscored 14-0 in the last 4-plus minutes before halftime.

The Raiders tied the game two minutes into the second half and took the lead five minutes later. The game was tied at 48, 50, and 52 before seven straight MSOE points gave the home team the lead for good. Lake Forest cut the deficit to a single point before being outscored 12-2 during the final four minutes of the contest.

Lake Forest will begin Midwest Conference play at home next weekend (November 30-December 1). The Foresters will host Lawrence University Friday at 7:30 p.m. and Beloit College Saturday at 4:00 p.m.
---