Lake Forest College Sports Information
November 25, 2003
Contact: Mike Wajerski, SID
Lake Forest Evens Record With Dramatic Win Over Lakeland
Beckford records double-double, McDonald hits winning shot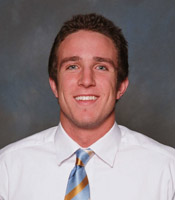 Greg Klos scored a team-high 18 points on Tuesday.

LAKE FOREST, IL - The Forester men's basketball team recorded a dramatic 68-67 victory over Lakeland College at home Tuesday (November 25) night to even its record at 1-1 on the season. The Muskies fell to 0-3.

Greg Klos (Carol Stream, IL/Glenbard North) led Lake Forest with 18 points. The sophomore guard shot 7-for-11 from the field and made a pair of three-pointers. Sophomore forward Franklyn Beckford (Jacksonville, IL/Jacksonville) scored 15 points and pulled down a career-high 12 rebounds. Junior forward Eric McDonald (Elk Grove, IL/Elk Grove) scored 15 points and was 5-for-6 from the field. Sophomore forward Maurice Smith (Loves Park, IL/Harlem) made two of four three-point attempts and scored 10 points. He is now 5-for-10 from beyond the arc this season.

There were three ties and four lead changes in the game's first eight minutes before a 10-4 Forester run put the home team ahead 20-15 with 12 minutes to play until halftime. The lead fluctuated between one and five points the rest of the period, which ended with Lake Forest ahead, 29-26. Lakeland shot 52.4% (11-for-21) in the half while the Foresters made just 41.7% (10-for-24) of their field goal attempts but our-rebounded the Muskies 16-11.

An 8-4 run by the home team to start the second half extended the lead to nine points (39-30) with 15 minutes to play. Lakeland battled back and pulled to within a single point (49-48) with ten minutes remaining, tied the score 57-57 with five to play, and took its first lead (62-61) of the period with two minutes left. The home team trailed 67-64 with 34 seconds to go and turned the ball over with 21 to play. A pair of missed free throws by Lakeland followed by a Klos layup brought the Foresters to within one with 10 seconds left. Two more missed free throws gave Lake Forest an opportunity to win it and McDonald's layup with 2.1 seconds remaining finished off the dramatic victory.

The Foresters shot 63.6% (14-for-22) from the floor in the second half and 52.2% for the game. The Muskies shot just 28.6% (6-for-21) after halftime but made 25 of 32 free throw attempts in the period. Lake Forest out-rebounded the much taller Lakeland squad 35-24 in the game.

The Foresters will travel to Concordia University (WI) this weekend (November 29-30) for the Midwest Challenge Tournament. Lake Forest will take on the hosts at 4:00 Saturday afternoon and Eureka College will face Webster University in the other semifinal. Sunday's consolation game is scheduled for 1:00 p.m. and the championship game will follow at 3:00.
---