Lake Forest College Sports Information
November 29th, 2001
Contact: Mike Wajerski, SID
Lake Forest is 3-2 After Victory at Concordia
Andris sets, Bell and Taylor match career scoring highs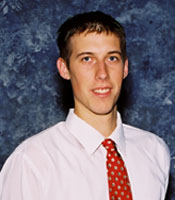 Tim Andris set career-highs in points (13) and rebounds (8).

RIVER FOREST, IL - The Lake Forest College men's basketball team played at Concordia University (IL) Thursday (November 29th) and came away with an 85-78 victory. After beginning the 2001-02 season with a pair of losses, the Foresters have rattled off three straight wins to raise their record to 3-2.

Junior guard Lee Taylor (Sheldon, IA/Sheldon) connected on 9 of 16 field goal attempts, including 5 of 10 from behind the three-point arc, and matched his career-high with 23 points. Taylor added 10 rebounds to record the first double-double of the season for the Foresters and the second of his career.

Fellow junior guard Fred Bell (Mequon, WI/Homestead) made all eight of his free throw attempts en route to a 19-point performance that tied his career scoring high.

While Taylor and Bell matched their career-highs for points in a game, junior forward Tim Andris (Port Washington, WI/Port Washington) tallied 13 points and 8 rebounds to set new career-bests in both categories.

Lake Forest shot 52.6% from the field while holding Concordia to just 43.9%. The Foresters also out-rebounded the home team, 37-36.

The Cougars built a nine-point lead (24-15) early in the game before the visitors went on a 15-2 run to take a lead that grew to six (36-30) by halftime. Concordia came back in the second half and even took a one-point lead on two occasions before a 17-4 run by the Foresters put them ahead for good. The lead grew to as many as 12 points before a Cougar comeback came seven points short by the end of the game.

Lake Forest will travel to Milwaukee, Wisconsin on Saturday (December 1st) to play against the Milwaukee School of Engineering at 3:00 pm. The location of the game will be the U.S. Cellular Arena, former home of the Milwaukee Bucks.
---