Lake Forest College Sports Information
November 29th, 2001
Contact: Mike Wajerski, SID
Bryan Bertola Named Forester Athlete of the Week
Senior guard scorched the nets from 3-point range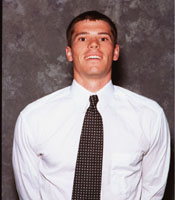 Brian Bertola was named
to the Midwest Classic All-Tournament team.

LAKE FOREST, IL - Bryan Bertola (Green Bay, WI) was named the Forester Athlete of the Week for leading the Lake Forest basketball team to the championship of the 1st annual Midwest Classic.

In the team's championship game win over Webster University, Bertola led the team in scoring (14 points) and rebounding (5) while shooting 4 for 5 from behind the 3-point arc. For the tournament he scored 26 points on 63.6% shooting from 3-point range (7 for 11) and contributed 9 rebounds and 4 assists, which earned him all-tournament honors.

Such accuracy from behind the arc is nothing new for the senior guard. Last year Bertola was the leading 3-point shooter in Division III (52.8%), and he is currently shooting 53.8% this season.

The Forester Athlete of the Week is chosen by the Athletic Department on Thursdays.

---