Lake Forest College Sports Information
November 29, 2008
Contact: Mike Wajerski, SID
Lake Forest Defeated by Visiting Dominican University
Foresters to begin Midwest Conference play next weekend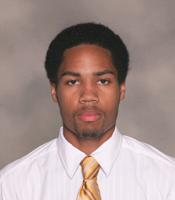 Victor Campbell

LAKE FOREST, Ill. - The Forester men's basketball team fell 72-61 at home to Dominican University on Saturday (November 29). Lake Forest's record dropped to 1-3 while the Stars raised their mark to 2-4.

Forester junior forward Victor Campbell (Milwaukee, Wis./Wisconsin Lutheran) led the Foresters with 18 points. He made half of his 12 field goal attempts and added four rebounds. Freshman post player Dayton Young (Muskego, Wis./Catholic Memorial) pulled down a team-high five rebounds and junior forward Patrick Hanley (Plainfield, Ill./Plainfield) led the squad with three assists and five steals.

Lake Forest shot 40.8 percent from the floor, 5-for-18 from three-point range, and 16-for-22 from the free throw line. The Stars made half their field goal attempts, including four of 12 from beyond the arc, and knocked down 16 of 20 free throws. The Foresters were out-rebounded 31-28 and both teams committed 13 turnovers.

There were seven ties and three lead changes in the first half and neither team led by more than five points in the period. Dominican held a 31-30 advantage at halftime.

The game was tied five more times early in the second half and the Foresters led by two (41-39) with 12 minutes to play. The Stars, however, outscored the home team 14-4 over the next three minutes to take an eight-point lead. The margin reached 10 points (64-54) with three-and-a-half minutes left before five straight points by Lake Forest trimmed it to five. The visitors scored the contest's next eight points, however, to put the game away.

The Foresters will begin their Midwest Conference schedule next weekend (December 5-6). Lake Forest will play at St. Norbert College at 7:00 Friday night before traveling to Carroll University Saturday afternoon at 4:00.
---