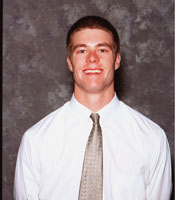 Tyler Tofson #33
6-4
Senior
Forward
Wisconsin Dells, WI
Wisconsin Dells High School

As a Junior in 2000-01
Played in 10 games after re-joining the team for the second semester.twice scored a season-high two points.earned his third varsity letter.
As a Sophomore in 1999-2000
Saw action in all but one contest with two starts...connected on 48.3% (14/29) of his field goal attempts, including 37.5% (3-8) of his three-point attempts...earned the second varsity letter of his career.
As a Freshman in 1998-99
Appeared in 21 of the Foresters' 22 games with one start.scored nine points, including 2 three-pointers, at Edgewood.played at least 8 minutes in 10 games...varsity letter winner.
As a Prep
Selected First team All-South Central Conference and All-Area his senior season.named to the All-Conference Second Team his junior year.a team captain for basketball and football (two years).also a two-year Second Team All-Conference performer on the football field as a tight end and linebacker.
Career Stats
| | | | | | | | | | | | | | | | | |
| --- | --- | --- | --- | --- | --- | --- | --- | --- | --- | --- | --- | --- | --- | --- | --- | --- |
| YEAR | GP-GS | MIN | FG-A | PCT | 3FG-A | PCT | FT-A | PCT | REB: O-D-T | AVG | A | TO | BL | ST | PTS | AVG |
| 1998-99 | 21-1 | 156 | 10-47 | .213 | 5-25 | .200 | 12-15 | .800 | 6-12-18 | 0.9 | 8 | 17 | 0 | 3 | 37 | 1.8 |
| 1999-00 | 21-2 | 161 | 14-29 | .483 | 3-8 | .375 | 4-8 | .500 | 6-9-15 | 0.7 | 4 | 21 | 0 | 4 | 35 | 1.7 |
| 2000-01 | 10-0 | 26 | 2-4 | .500 | 0-0 | .000 | 0-0 | .000 | 0-3-3 | 0.3 | 1 | 3 | 0 | 0 | 4 | 0.4 |
| 2001-02 | 23-23 | 514 | 53-135 | .393 | 33-92 | .359 | 14-21 | .667 | 12-60-72 | 3.1 | 23 | 38 | 1 | 5 | 153 | 6.7 |
| CAREER | 75-26 | 857 | 79-215 | .367 | 41-125 | .328 | 30-44 | .682 | 24-84-108 | 1.4 | 36 | 79 | 1 | 12 | 229 | 3.1 |
Career Highs
Points: 19 @ Knox on Janaury 5th, 2002
Rebounds: 8 Multiple Times
Assists: 3 @ Kalamazoo College on November 17th, 2001
---