Lake Forest College Women's Basketball
Coaching Staff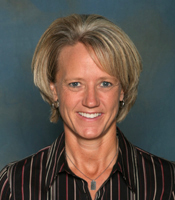 Career Highlights

386-133 career record in 22 seasons at Lake Forest
.743 career winning percentage ranks her among the top 20 NCAA Division III coaches in history
Coached team to MWC titles in 1992, 1994, 2000, 2001, 2002, and 2007
Directed the Foresters to the four-team MWC Championship Tournament 10 of her last 11 seasons
Coached players to 54 all-conference selections, including 33 first team distinctions, and 10 All-American accolades
Was named Coach of the Year six times by the MWC and five times by the Illinois Basketball Coaches Association
Head Coach Jackie Slaats
To say Coach Slaats instilled a winning tradition at Lake Forest would be a major understatement. Slaats is not only the winningest women's basketball coach in Lake Forest history, but she has won more than four times as many games as the seven other coaches in the program's history combined. Her teams won 14 or more games in 21 consecutive seasons and at least 20 in seven of her last 11 years. She finished her Forester coaching career in 2008 with a 386-133 record in 22 years at the helm of the program. Her .743 career winning percentage ranks her among the top 20 NCAA Division III coaches in history and her teams were a combined 220-71 (.756) in league play.
The 2007-08 Foresters posted a 21-4 overall record and a 14-2 mark in Midwest Conference play. Lake Forest made its 10th trip to the four-team MWC Championship Tournament in the last 11 years and finished as league's runner-up. A pair of Foresters earned First Team All-MWC honors and one was a Second Team selection.
Lake Forest's finest season under Slaats was the 2006-07 campaign, when the squad posted a program-best 24-3 overall record and 15-1 mark in league play, claimed the sixth MWC title in team history, set a school record with 18 consecutive victories, hosted the first two rounds of the NCAA Tournament, and advanced to round two of the national tourney for the first time. Slaats was named Coach of the Year by the MWC, Illinois Basketball Coaches Association, and Women's Basketball Coaches Association for Region 7.
Forester players have been named all-conference 54 times during Slaats' tenure, including 33 first-team citations. Additionally, she coached Alison Grubbs to three MWC Player of the Year honors (1998, 2000, and 2001). In 2001, Grubbs was also awarded the Jostens Trophy, which is given annually to the nation's most outstanding NCAA Division III women's basketball student-athlete. Four All-Americans, including a three-time selection (Jill Morrison from 1989 to 1991) and a four-time recipient (Grubbs from 1998 to 2001), have come through Slaats's program.
Slaats had also been named Midwest Conference Coach of the Year in 1998, 2000, 2001, 2002, 2005, and 2007 and Illinois Basketball Coaches Associations Division III Coach of the Year in 1992, 2000, 2001, 2002, and 2007. Additionally, the Cuba City, Wisconsin, native was named the Wisconsin Basketball Coaches Association Female Athlete of the Year in 1998.
The Foresters also captured Midwest Conference titles under Slaats' direction in 1992, 1994, 2000, 2001, 2002, and 2007 with the last five championship squads earning trips to the NCAA Tournament. The 1994 team earned the school's first-ever post-season tournament bid in women's basketball and the 2001 squad became the program's first to host an NCAA Tournament game.
Slaats's influence has also been felt statistically at the national level. She has coached the NCAA Division III free throw percentage champion in 1990 (Jill Morrison), 1991 (Anne Bennett), and 1997 (Dawn Smith), and the three-point field goal percentage leader in 2000 (Grubbs).
Slaats's coaching career began at Lake Forest in 1986-87 when she inherited a team that had averaged less than four wins per season and never won more than five games in a season over the previous five years. In Slaats's first year, the Foresters finished 8-14, the first and only losing season in her career.
Slaats, who has been Lake Forest's Athletic Director since the fall of 1992, also served as the College's head volleyball coach from 1986 to 1991 and was the program's all-time winningest coach until 1999.
While a high school standout for Cuba City (WI) High School, Slaats racked up 1,309 career points and became the school's second all-time leading scorer. She was a four-time All-Southern 8 Conference pick, including league Most Valuable Player her senior season. Slaats was an All-State selection after both her junior and senior seasons after earning All-State Tournament Team honors as a sophomore. During her four years on varsity, Slaats led CCHS to a 77-8 record, three conference championships, and a state title.
In 1982, Slaats enrolled at Iowa State University in Ames, Iowa, where she was a four-year varsity letter winner on the women's basketball team. She was a three-time recipient of the Big 8 Academic Award and nominated for a 1986 NCAA post-graduate scholarship. She received her Bachelor of Science degree in Physical Education with an emphasis in Coaching in 1986.
She went on to earn a Master's degree in Education with an emphasis in Academic Counseling, Sports Psychology, and Athletic Administration from the University of Wisconsin-Whitewater.
During the summer months, Coach Slaats directs the popular One Step Closer Basketball and Volleyball camps held at Lake Forest College.
Slaats was inducted into the Lake Forest College Athletic Hall of Fame in 2008.

Slaats's Year-By-Year Coaching Record at Lake Forest
| | | |
| --- | --- | --- |
| YEAR | OVERALL | MWC (REG. SEASON/TOURNEY) |
| 1986-87 | 8-14 | 5-5 (4th North) |
| 1987-88 | 14-8 | 4-2 (t-1st North) |
| 1988-89 | 15-7 | 3-5 (t-3rd North) |
| 1989-90 | 18-6 | 5-3 (2nd North/3rd) |
| 1990-91 | 15-7 | 4-4 (t-2nd North) |
| 1991-92 | 21-3 | 7-1 (1st North/Champion) |
| 1992-93 | 18-4 | 10-4 (t-2nd North) |
| 1993-94 | 19-6 | 11-3 (2nd North/Champion) |
| 1994-95 | 15-7 | 10-4 (3rd North) |
| 1995-96 | 16-6 | 9-5 (4th North) |
| 1996-97 | 17-5 | 10-4 (t-3rd North) |
| 1997-98 | 20-4 | 12-1 (1st South/Runner-Up) |
| 1998-99 | 20-3 | 15-1 (1st/Semifinalist) |
| 1999-00 | 20-4 | 14-2 (2nd/Champion) |
| 2000-01 | 20-5 | 15-1 (1st/Champion) |
| 2001-02 | 19-7 | 12-4 (2nd/Champion) |
| 2002-03 | 22-3 | 14-2 (2nd/Runner-Up) |
| 2003-04 | 16-8 | 12-4 (3rd/Semifinalist) |
| 2004-05 | 14-10 | 11-5 (4th/Semifinalist) |
| 2005-06 | 14-9 | 8-8 (5th) |
| 2006-07 | 24-3 | 15-1 (1st/Champion) |
| 2007-08 | 21-4 | 14-2 (2nd/Runner-Up) |
| 22 Years | 386-133 (.743) | 220-71 (.756) 6 Titles |



---