Lake Forest College Sports Information
November 22, 2005
Contact: Mike Wajerski , SID
Melissa Stevenson Earns Academic All-American Honors
Biology major is all-time leading scorer in program history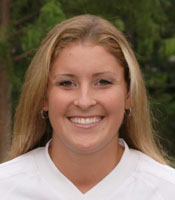 Stevenson is the program's first Academic All-American.
LAKE FOREST, IL – ESPN The Magazine and the College Sports Information Directors of America (CoSIDA) released the 2005 Academic All-American College Division Women's Soccer Team Tuesday (November 22) and Lake Forest senior Melissa Stevenson (Littleton, CO/Dakota Ridge) was a First Team selection.
Stevenson currently owns a 3.93 cumulative grade point average and is pursuing a major in Biology (Pre-Med) with a minor in Chemistry. She was a CoSIDA/ESPN The Magazine First Team Academic All-District V College Division selection earlier in the month as well as last year and earned second team all-district honors as a sophomore. She is a three-time Academic All-Midwest Conference selection and earned Lake Forest's Freshman, Sophomore, and Junior Scholar-Athlete Awards, given to the student-athlete with the highest grade point average over the previous three semesters. She has also been a Dean's List honoree throughout her collegiate career.
Stevenson has been equally successful on the soccer field. The four-time First Team All-Midwest Conference honoree is the Foresters' all-time leader with 54 goals and 142 points in her career. After ranking second on the team in points as a freshman, she set single-season school records with 51 points and 17 assists in 2003 while helping lead Lake Forest to its first-ever NCAA Tournament appearance. Her 14 goals and 36 points also led the Foresters in 2004 as they won the conference title with a perfect 9-0-0 league record. She was named Second Team All-Central Region by the National Soccer Coaches Association of America after the season. Finally, she paced this year's squad with 14 goals, six assists, and 34 points. She recorded at least one point in 43 of 69 career games with five hat tricks.
She is the first Academic All-American in the program's history.
CoSIDA Release
---