Lake Forest College Sports Information
October 29, 2005
Contact: Mike Wajerski , SID
Foresters Fall in Semifinals of Midwest Conference Tournament
Team finishes 2005 with 8-7-2 record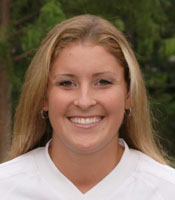 Melissa Stevenson will graduate as the program's all-time leader in goals and points.
GRINNELL, IA – The Lake Forest College women's soccer team suffered a season-ending 2-0 shutout in the semifinals of the Midwest Conference Tournament on Saturday (October 29) against top seeded Grinnell College. The Foresters finished the season with an 8-7-2 overall record and posted a 5-2-2 mark in the league.
Lake Forest did not allow a goal until the 42nd minute, but Grinnell found the back of the net again in the 89th minute to give the Pioneers a 2-0 lead, the game's final score. The Foresters were out shot 28-4, including 18-1 in the second period. Sophomore goalkeeper Kristyne Operzedek (Deerfield, IL/Deerfield) finished the contest with nine saves.
After starting off the season with four consecutive wins, injuries were among some of the problems that plagued the squad. Senior forward Melissa Stevenson (Littleton, CO/Dakota Ridge) led the team in goals (14), assists (6), and points (34), and will leave the women's soccer program as the all-time leader with 54 goals and 142 points. She is also ranked second in career assists with 34.
Freshmen Katie Rice (Centennial, CO/Eaglecrest) and Mallory Davis (Whitefish Bay, WI/Whitefish Bay) were runners-up on the team as Rice finished second on the squad with eight goals and 19 points, and Davis was second on the team with four assists, one more than classmate Jaymie Honold (Kapolei, HI/Kapolei), who finished third in all three categories.
By Franklyn Beckford

Box Score
---