Lake Forest College Sports Information
January 25th, 2002
Contact: Mike Wajerski, SID
Foresters Back on Track With Win Over Carroll
Three seniors shoot 11-of-18 from three-point range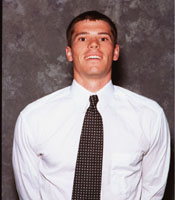 Bryan Bertola led the Foresters in scoring for the first time since the fourth game of the season.

LAKE FOREST, IL - The Forester men's basketball team ended their uncharacteristic losing streak at four games Friday (January 25th) night with a 74-59 win at home over Carroll College. With the victory, Lake Forest raised its overall record to 8-8 and its Midwest Conference mark to 5-4.

Senior guard Bryan Bertola (Green Bay, WI/Bay Port) was the Foresters' top scorer with 15 points. He shot 5-of-8 from the floor, including 4-of-7 from three-point range. As a team, Lake Forest made 13 shots from outside the arc in 31 attempts.

Senior forward Tyler Tofson (Wisconsin Dells, WI/Wisconsin Dells) and senior guard Brian Bruha (Hillsboro, WI/Hillsboro) each shot 5-of-8 from the field as well and combined to make 7 of 11 three-point attempts. They scored 14 and 13 points, respectively, each added five rebounds, and Bruha chipped in a game-high five assists.

With 10 points in the game, freshman forward Eric McDonald (Elk Grove, IL/Elk Grove) reached double-figures in points for the team-best 11th time the season. Junior guard Fred Bell (Mequon, WI/ Homestead) scored eight points, pulled down a season-high nine rebounds and dished out four assists.

Lake Forest shot 48.3% from the field and held Carroll to just 32.9%. The Foresters also out-rebounded the Pioneers 46-33.

Lake Forest scored the game's first seven points and quickly jumped out to a 10-point lead (13-3). That margin fluctuated between 6 and 13 points throughout the first half, which ended with the home team ahead by a dozen, 41-29.

The Foresters outscored Carroll 22-4 over the first eight-and-a-half minutes of the second half to take a 30-point lead, the largest they have held over any opponent this season. The visitors' 21-7 run to end the game cut the final margin to 15 points.

The next game for the Foresters will be tomorrow (January 26th) afternoon when they host St. Norbert College at 4:00 PM. The Green Knights are still undefeated (9-0) in MWC play this season.
---