Lake Forest College Sports Information
January 5th, 2002
Contact: Mike Wajerski, SID
Foresters 3-0 in MWC After 96-80 Win at Knox
Four score in double figures in the win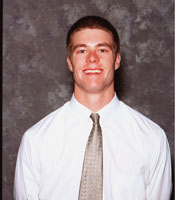 Tyler Tofson more than doubled his career-high with 19 points.

GALESBURG, IL - For the third season in a row, the Lake Forest College men's basketball team has begun Midwest Conference play with three straight wins. The latest was a 96-80 victory at Knox College on Saturday (January 5th). The win gives the Foresters a 6-4 record overall that includes a 3-0 mark in the MWC.

Junior guard Fred Bell (Mequon, WI/Homestead) led the team in scoring on Saturday with 21 points. He shot 6-of-9 from the floor, including 2-of-3 from three-point range. Bell connected on 7 of 10 attempts from the free throw line.

Forward Tyler Tofson (Wisconsin Dells, WI/Wisconsin Dells) scored a career-high 19 points, more than twice as many as his previous best (9). Guard Bryan Bertola (Green Bay, WI/Bay Port) also scored 19 points. The pair of seniors combined to shoot 9-for-15 from behind the three-point arc. As a team, the Foresters connected on 16 of 33 three-point field goal attempts.

Lake Forest shot 51.6% from the field and limited Knox to just 39.4%. It was the fourth game this season that the Foresters made at least half their shots from the floor.

Knox led by as many as six points on three separate occasions in the game's first eight minutes before a pair of Forester three-pointers tied the score at 19. The lead changed hands seven times in the next nine minutes and a 13-4 run by the visitors gave them a 41-36 lead at the break.

Lake Forest led 62-52 with 12 minutes to play when back-to-back three-pointers by Bertola extended the margin to 16. The home team chopped the lead down to eight (85-77) with just three minutes to go before an 11-1 Forester run put the game away.

Lake Forest will host Illinois College on Tuesday (January 8th) in a battle of two of the league's three unbeaten teams. The teams split the regular season series last year with each team winning on the road.
---