Lake Forest College Sports Information
January 8th, 2002
Contact: Mike Wajerski, SID
Lake Forest Beats Illinois College in Battle of MWC Undefeated Teams
Foresters and St. Norbert are only remaining schools without a league loss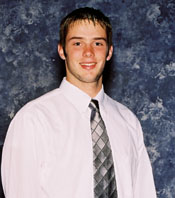 Lee Taylor scored 15 points, pulled down 9 rebounds, dished out 5 assists and added 4 steals.

LAKE FOREST, IL - The Forester men's basketball team remained undefeated in the Midwest Conference Tuesday (January 8th) with a 71-67 win at home over Illinois College. Lake Forest is now 7-4 overall and 4-0 in MWC contests. It was the first loss in three league games this season for Illinois College, whose overall record fell to 6-4.

Junior guard Lee Taylor (Sheldon, IA/Sheldon) and freshman forward Eric McDonald (Elk Grove, IL/Elk Grove) each scored 15 points to pace the Foresters. Taylor, who entered the game leading the conference in rebounding (10.3 rpg) and tied for the league lead in assists (6.0 apg), recorded game-highs in both categories with nine and five, respectively. He also led the team with four steals.

Junior guard Fred Bell (Mequon, WI/Homestead) and senior forward Tyler Tofson (Wisconsin Dells, WI/Wisconsin Dells) were next for the Foresters in scoring with 13 and 11 points, respectively. Bell shot 3-for-4 from the field and was a perfect 6-for-6 from the free throw line. Tofson shot 3-for-6 from behind the three-point arc, pulled down eight rebounds, and scored in double-figures for the second game in a row and the second time in his Lake Forest career.

After scoring the game's first basket, the Foresters would not lead again the rest of the first half. Illinois College scored eight straight points following that first score and twice led by as many as eight before an 8-0 run by the home team tied the score at 18. The Blueboys responded with a 10-0 run of their own and extended the lead to 11 points (31-20) before Lake Forest cut the deficit to 33-28 at the half.

The lead fluctuated between one and seven points until Bell's only three-point attempt of the game went in with 10:55 to play n the game, giving the Foresters a 47-45 lead, their first since the game's opening minute. After the Blueboys tied the score with a pair of free throws, a basket by Taylor gave Lake Forest the lead for good. The home team extended the margin to as many as seven but led by just a single point three separate times in the game's final three-and-a-half minutes. The Foresters made six straight free throws, including four by Bell, in the final minute to preserve the win.

Lake Forest will travel to Beloit College on Friday (January 11th) to take on the Buccaneers, who are 2-2 in the conference. On Saturday (January 12th), Ripon College, who is currently 2-1 in league games, will come to Lake Forest. Ripon swept the regular season series against the Foresters last year and are the only team to do so since 1998-1999.
---